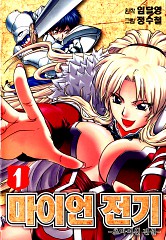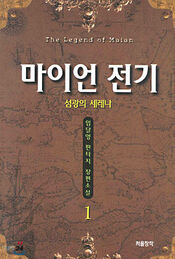 Welcome to the The Legend of Maian Wiki
Edit
A powerful sorceress, Felicia Rand Philistine, once tried to conquer the Shurian people. In her wake of terror and destruction, a man stood up and rebelled against her oppression and domination. The people called him Maian the Brave (Yongja Maian) and it was he that sealed the evil sorceress.
A thousand years later, Felix Maian in the biggest mistake of his life releases the sealed sorceress that his ancestors have tried so hard to keep imprisoned.Now he has to keep the sorceress from taking over the world once again...
The Legend of Maian
Edit
The Legend of Maian (마이언 전기) is about a time of strife, an age after a great war where the Great Hero Maian defeated the Great Witch Felicia Rand Philistine. A descendant of Maian, Felix Maian accidentally frees Felicia from her enchanted bonds, and is in turn bonded with her, her powers sealed within him. As an attempt to retrieve her powers, she agrees to travel with Felix to find her Great Generals, perpetually bound to her will as long as she lives, so as to supposedly help Felix's homeland in its time of need, defeat their enemy.
The story was written by Lim Dall Young. The manhwa was illustrated by Jeong Soo Cheol. The story is available first as a light novel series, and then adapted as a manhwa series.
The story is based on an earlier set of stories written by Lim Dall Young, the Pit Aelia (피트에리아) series of stories.
Latest activity
Edit
Talk:The Legend of Maian
new comment by A FANDOM user

| | |
| --- | --- |
| Comment: | I m still waiting for more chapters but 8 years have passed and i m very disappointed that this incredible manhwa is unknown to ppl for me Maian is... |

Talk:The Legend of Maian
new comment by A FANDOM user

| | |
| --- | --- |
| Comment: | i think so too damn i have been waiting for 3 years the manhwa isnt updating anymore i freaking love the plot but somehow after browsing the net i m... |

Talk:Felix Maian I
new comment by Bkd4ever

| | |
| --- | --- |
| Comment: | this author is workng a lot of projects at the same time lol and his other work is rush or axed |
Community content is available under
CC-BY-SA
unless otherwise noted.